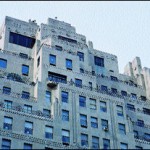 The most notable residence in the most notable apartment house on the Upper East Side, 740 Park, has lately been much in the news. A few weeks back, the New York Times' T Magazine referred to the former residence there of Saul and Gayfryd Steinberg, Apartment 15-16B.  In tomorrow's Styles of the Times, in a profile of its current occupants, Steve and Christine Schwarzman, the apartment also figures prominently.
Though it's really unnecessary, both articles inflate the apartment's many virtues.  T called it a triplex.  The writer of the Styles profile referred to it as a "17,000-square-foot, three-floor penthouse." In fact, while fabulously grand, it is none of those things, as Times editors partly acknowledged when they corrected that T article: "An earlier version of this article referred incorrectly to the apartment of Saul and Gayfryd Steinberg; it was a duplex, not a triplex."
Back in 2009, when a Wall Street Journal reporter made similar mistakes, Gripepad noted it in a post in which I called myself " the self-appointed guardian of 740 facts" and pointed to a page from the cooperative's 1929 offering plan (which appears elsewhere on this web site) as backup.  Here it is: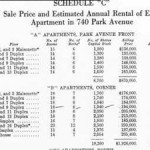 So here we go again. The apartment, built for George Brewster, a descendant of the leader of the Plymouth Colony, and long occupied by John D. Rockefeller Jr., is a duplex occupying a portion of the building's 15th and 16th floors (click the links to see floor plans) with a mezzanine containing servants' bedrooms wedged in like a loft bed over the home's lower service rooms (a servant's lunch room, laundry and the kitchen).
It is also, as I wrote here nine years "somewhat larger than 20,000 square feet (although its exact dimensions, like those of most cooperative apartments in New York City, have never been given)." And, as that Offering Plan also notes, while the ingeniously complex building has two penthouses, they sit above the floor on which the Schwarzmans live.
To quote the late great George Bernard Shaw, "Success does not consist in never making mistakes but in never making the same one a second time. "