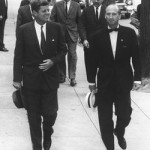 Biddle Duke, son of Robin and Angier Biddle Duke, once residents of 740 Park Avenue (that's the late Angier in the photo with JFK, whom he worked for), came to my book on the building a few years late. He takes belated issue with several sentences in it, so I offered to print his note to me verbatim here, and he agreed. He writes:
Dear Mr. Gross,
This is mostly a useless exercise, because the ink's long dry now on 740 Park. All I can say is that I wish you'd called me about Mom and Dad, Robin and Angie Duke. That building and apartment was way before my time but, regardless, some of your reporting was incorrect, and pushed some [of] my buttons enough to get me to send you this note.
There's no way in hell that Dad inherited half of what 10 years ago amounted to $108 million. You, like so many other reporters, have picked up the fiddle that's been played about Dad and his brother, and simply played it again.
The true story of his (and his brother's) inheritance is far more interesting. But casting him as some great heir looking for his purpose in life had a good feel to it. Both his brother Tony Duke and Dad made great lives, but the truth on the money piece is that they were almost entirely cut out of their Duke inheritance by their father. In a dispute with his wife at the time (my grandmother, Cordelia, whom you also mention in your book), Dad's dad (Cordelia's husband, Angier Duke) rewrote his will only days before he died in a boating accident. The will cut her out, and left a small trust for his two boys. I assure you the trust was not worth half of $108 million when your book was published eight years ago. More like a fraction of that. Both those men parlayed their inheritance into big lives, pretending all along — or at least not loudly disabusing people of the notion — that they were heirs to a great Duke fortune. They were no such thing.
All this is briefly explained in Tony Duke's biography, Uncharted Course. But only briefly, as both men believed correctly that it would be undignified to be anything but grateful for their lives and their wonderful ancestry.
There is more to the story, but suffice to say that to read in your book that dad inherited what amounts to $54 million in the 30s made me laugh out loud at the absurdity of it, and wonder, for a few seconds "where the heck is the money?" Then I returned to reality, and my life running a tiny Vermont media company to pay the bills.
As for your reporting that Mom was a model who landed a job at the state department when she met and married my father, I am less amused. That description might have a nice ring to to it, but it's total baloney/bad reporting. My mother moved to New York as a teenager with no high school degree and went to work as a clerk at Lord and Taylor. She was in a few photo shoots in her late teens. She then became a reporter, and later an editor, with the New York Journal American, a city daily; then went to television news as the first woman on the Today Show with Dave Garraway. That would be even before Barbara Walters.
Loathing the show business feel of TV news and the sexism she encountered, she went to night school and studied to be a broker, which she became, eventually specializing in commodities and trading sugar. One of her accounts was Pepsi Cola. That eventually landed her a marketing job with Pepsi, and it was as a Pepsi exec that she met dad in Moscow where she was sent by Pepsi in the early 60s. At the time, she was raising two children as a single mother, aged 38. She would go on to have a bunch of other careers, one of which was as a crusader for women's reproductive rights and family planning. But that came later.
So, your description of her in 1961 as a model who'd recently landed a job at the state department was an insulting, inaccurate brush-off that I deeply resented.
This is all an academic exercise. Your book is out and being read, and your reporting about Dad simply mimics a convenient and repeated narrative. As for the treatment of my remarkable mother, no one probably cares much. Except her children. I am one of three. I was offended as her son and as a reporter, and needed to let you know.
Biddle Duke