Walt Disney said that, and yesterday's real estate news shows it's still true. On both the east and west coasts, trophy properties with remarkable histories have gone on the market and attracted attention for their inherent quality–as well as their sky-high asking prices.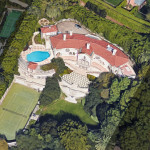 In Bel Air, California, Variety's brilliant Realestalker Mark David reports, soap opera mogul Bill Bell and his wife Maria, an arts philanthropist have listed a mansion prominently featured in my book on West Los Angeles, Unreal Estate (which is currently out of print). Designed by Wallace Neff for film producer and studio mogul Sol Wurtzel, it was later home to a celebrity psychic and astrologer-to-the-stars and is said to have been sublet to to Howard Hughes, Prince Ranier of Monaco and Elvis Presley. Later owned by British character actor Reginald Owen, it was acquired in 1962 by owner Dolly Green, daughter of oilman Burton Green, a co-founder of the city of Beverly Hills. Her estate sold it to the Bells for $4.775 million. Bell is now asking $37.5 million for it.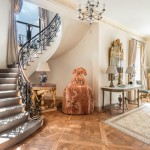 On Manhattan's Upper East Side, an exquisite jewel-box duplex pied-a-terre with remarkable provenance, spelled out in my book 740 Park, has gone on the market for $39.5 million. Listed by banker John Thain (as the last chairman and chief executive officer of Merrill Lynch before its merger with Bank of America, he was one of the central characters in the last decade's economic collapse), it has had only three owners since 1933, when it was first occupied by Blanche Brownell Grant, a W.T. Grant Stores heiress and Gurdjieff disciple. Its second owner was Annenberg heiress Enid Haupt, who lived there from 1967 until Thain bought the apartment from her estate for $27.5 million in 2006, shortly after 740 Park was published.