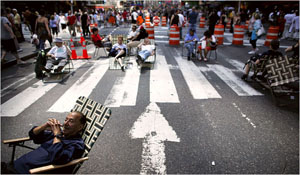 Cindy Adams takes off after New York's new bike Nazis at the end of an hysterical rant-romp on urban manners in today's New York Post. Though her real target is "our revered, beloved, adored Emperor Bloomberg" for the "imbecilic, idiotic, vehicular ruling" that "turned Broadway into Rockaway… The Street of Dreams, the most famous area on this planet, into a nightmare" — a pedestrian plaza — she reserves special scorn for Bloomberg's "whacked-out" transportation commissioner: "this unknown whack-job with the three names — Janette Sadik-Something… whom nobody, not one soul, not even her family, ever heard of — and who bike-rides … bike-rides! … because that's the way she normally travels around the city. The woman doesn't ever get in a car. She gets on a bike. That's about the same level of intelligence that put that Napolitano nobody in charge of Homeland Security."
Warning, what follows is not NSFW or for persons under 18:
That reminded me that I'd heard of her family, written about her father a few years ago, and might even have a clue to offer as to what turned this commish into a bike-riding "whack-job." Orhan Sadik-Kahn survived the bombing of Dresden as a child to become a corporate tycoon and PaineWebber officer with a palatial manse in Old Greenwich. His first wife was Janette's mother. His second was likely a little embarrassed when he put himself on the covers of tabloids and at the center of a magazine cover story I wrote about old men who lost their heads for Natashas, a pack of Soviet cuties who invaded New York about a decade ago and preyed on guys like Sadik-Kahn. Sadik-Kahn's Natasha ultimately sued him, charging that he rented her "an apartment at the Galleria, insisting that she remain home at all times so he could have sex on demand… sneaked in and penetrated her while she slept, would pretend to be an infant and suckle at her breasts for three hours at a time, begged her to procure other women for group sex, flew home from vacations just to have sex with her, took hundreds of nude photos of her, asked her to describe sex with other men, and insisted that she have 'wild' sex with him in his wife's bed." That's enough to make you a little whacky, no?