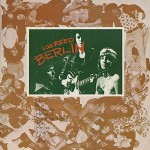 Obituaries hailing Lou Reed in recent days have mentioned his disgust with rock critics who overwhelmingly disparaged his 1974 concept album Berlin. But one critic gave it a good review, me, writing for Crawdaddy while still a schoolboy. In Lou's honor, I reprint it here.
LOU REED IS the grand ghoul of them all. He happens to scare people. He stands in the same relation to Bowie and Iggy and their ilk as Dylan did to Ochs and Paxton, and the Beatles did to the Kinks and the Animals. The others were good, but the first was the best.
The Velvet Underground was the first American underground band. They may still be. If the FCC ever heard 'Heroin' pouring out onto the airwaves on any commercial station, martial law could conceivably be declared. From their beginnings as the Warlocks and then the Velvets with Warhol's Exploding Plastic Inevitable, they'd been the bad boys of American rock. With the release of Berlin, Lou Reed, ex-child pianist and ex-lead vocalist of the Velvets, has written a new chapter in rock's Inferno, opening another circle of purgatory to public perusal.
On each of his solo albums, Lou has used different sidemen and producers. Richard Robinson worked on the first album with a group of relatively undistinguished sidemen and no point of reference besides the Velvets lp's. Transformer established Lou as a glam-rocker with production by the charming Mr. Bowie and the effervescent Mr. Ronson. Although they may still be the best of friends, it's fair to assume that the business techniques of Tony "Starman" DeFries were a little too mellow for Lou's high-powered New York City mentality. With Bowie out of the picture, Lou chose Bob Ezrin as his new main man. Ezrin, of course, is Alice Cooper's producer. It all seems vaguely incestuous.
The title cut comes from Reed's first solo album. It opens with a Todd Rundgrenesque sound collage blending into a chorus singing 'Happy Birthday'. A slightly sinister cocktail lounge piano rises out of the background as Lou croons the words to 'Berlin' once through! "In Berlin by the wall/you were five foot ten inches tall…" Then, strangely enough, comes an Alice Cooper song. 'Lady Day' has an instrumental track that the Billion Dollar Babies could be proud of. It also has Lou singing, which some people may prefer.
The three remaining songs on side one are about, respectively, rich people, a Germanic Queen named Caroline, a speedfreak and two-bit friends. On side two, Lou sings about Caroline again, a slut, a suicide and a broken love-affair. The specifics don't really matter. There's an emotional tone that's pervasive in Lou Reed's songs. It's always been there, but never quite so obviously as on Berlin. Listening to this album is like taking a trip to Edge City.
Musically, it's simply excellent. Reed has assembled an impressive coterie of sidemen – Steve Winwood, Jack Bruce, and Aynsley Dunbar among them. The use of strings and horns shows impeccable taste. Ezrin has found a perfect mean in production between the lean Lou Reed and the lush Transformer.
Ultimately, though. Berlin's meat is in the lyrics. A lot has been said and written about Reed's life. Speculation on who these songs are about – which moments and which people – seems as silly as it is futile. What Reed is coping with is despair. It could be characterized differently. Call it anguish, nausea. S&M or B&O; it still comes down to the same thing. Every person reacts to portrayals of despair differently. At the same time, one can feel repelled and fascinated as Reed asks "How do you think it feels to make love by proxy?"
He begins with a simple fact, 'Dubonnet on Ice' in a bar in Berlin. He looks at what surrounds him: the woman who is drawn into a bar to sing before going home alone to a bare hotel room; the rich and poor trying to stay alive; and the girl who "wants a man, not just a boy."
"But of course," he muses. "I thought I could take it all." It begins to get to him. "How do you think it feels when all you can say is if only?" He finds himself "lookin' through the eyes of hate." The girl he wanted is lying on the floor, beaten and ready to die. "Life is meant to be more than this, and this is a bum trip"
Things fall apart. A woman's children are taken away. The songwriter looks on curious, but detached. A woman slashes her wrists. The songwriter tells the tale. He stares at a picture of a lady. "I'm gonna stop wastin' my time…Sad Song." Meanwhile the music portrays a suppressed rage.
Perhaps Reed has discovered that rage in himself. Perhaps he has realized the depth of his own detachment. He's no child of decadence anymore. Rather, he's become the poet laureate of the depths of despair. David Bowie sang about a "crash course for the ravers." Berlin is a crash course, but the ravers ain't old enough for it just yet. Their time will come.
And Lou. You don't know me, but I think I know a little more about you now. All those tales I've heard don't mean a thing next to this album. I would tell you to be careful, Lou, but I think you know that by now. Just hang in there. I don't know where you're going, but I'd like to hear about it.
© Michael Gross, 1974