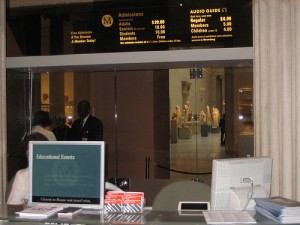 Last week, the New York press predictably annnounced the Metropolitan Museum of Art's abrupt 25% bump of its "suggested" admission price to $25 (that's the old price displayed above) without much historical context or critical commentary. Only Louise Blouin's feisty artinfo.com hinted that to some, this might spell heartbreak or outrage. This morning, Judith H. Dobrzynski's RealClearArts took a stab at the plan, too, reviewing some of the recent history of the entry tariff and wondering why the museum doesn't institute variable pricing. "Airlines, theater, and many other places have succeeded in using variable pricing, with few or no complaints from the public," she notes. A bit more historic context might aid this discussion, even though the museum's history is a topic that seems off limits to the sort of folk who are generally invited into it for free. ("I get invited to previews," NPR's Leonard Lopate warned me seconds before we went on the air to discuss my unauthorized history of the Met, Rogues' Gallery. "Don't screw that up for me.")
According to research done by the Metropolitan Museum Historic District Coalition, the December 24, 1878, lease between the City of New York, which owns both the museum's buildings and the land they occupy, and the Metropolitan, as amended by city law in 1892, still requires that the museum be open to the general public free of charge five days a week, with one being Sunday afternoons, throughout the year; be open to the general public free of charge two evenings a week; is foreclosed from being open Sunday mornings; must make up to the general public any holiday it chooses to close; and must be "open and accessible to art students, copyists and schools" during all operating hours.
"Museum officials use ambivalent and misleading verbiage like the word 'Recommended' to claim that a visitor's admission is 'voluntary,' accordingly constitutes a 'contribution' not an 'admission,'" the Coalition has said. The story of the museum's "Pay What You Wish But You Must Pay Something," admission policy is told in Rogues' Gallery. Click a Rogues' link to buy a copy.