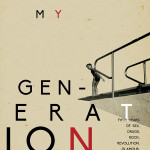 What does presidential front-runner Donald Trump have in common with an LSD chemist, a mad bomber leftist, an Apple Computer coding legend, a bisexual feminist porn star, a Jesus freak turned Queer theorist, an environmental activist, a rabid southern racist, arch-conservative conspirators and unregenerate rock'n'rollers, a ghetto weed dealer, a hanging judge, a Vietnam war hero and a spiritual guru?
More than you might think.
Meet them all in My Generation: Fifty Years of Sex, Drugs, Rock, Revolution, Glamour Greed, Valor, Faith and Silicon Chips by New York Times best-selling author Michael Gross. "Trenchant… well dramatized… thought provoking and unusual… [this] thorough cultural history" (Kirkus Reviews) will be available again in March 2016 after a decade out of print, exclusively in a new e-book edition. Watch this space for ordering details.