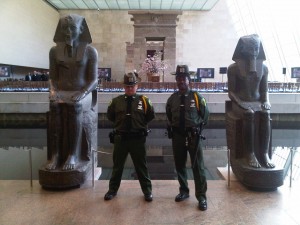 No snark today. I'm just back from Tom Hoving's memorial at the Temple of Dendur and it was a touching and happy event from the moment his daughter Trea Hoving (who organized the whole thing with her mother Nancy Hoving) stepped to a podium in front of one of those marvelous sprays of flowers (donated to Hoving's Met in perpetuity by Lila Acheson Wallace) and said "Morning! I had the coolest dad!" In fact, I was touched even before I went inside by the honor guard the Parks Department placed out front, and another as guests walked through the doors to the Sackler wing and the Temple (above).
As a video played, set to the Overture from The Who's Tommy (nice touch), the laughs started and never stopped, inspiring even by the normally dour Philippe de Montebello, who called his predecessor as the museum's director "a protean figure… brilliant… mesmerizing… tempermental… Quixotic… combative… quicker than any of us… a real scholar… rather fond of hyperbole… " It was that last that got the laugh, since all present know Montebello called Hoving less kind things than that after, as he put it, "we went our separate ways," but as I said, let's leave that for another day. "The mark of Tom Hoving is everywhere at the Metropolitan," his successor continued, adding that "some day this will be called The Hoving Era." It already is, but again, never mind.
Also at the podium were Judy Collins, who sang "Both Sides Now" and led a singalong to "Amazing Grace," former vice director Harry Parker, who noted that Hoving was "usually pleased to tweak the nose of authority," former Parks Commissioner and Hoving aide Henry Stern, who pointed out that it was only thanks to Hoving that the magnificent site of the memorial even graces New York's Central Park, and Hoving's former ABC-TV producer Donovan Moore, who concluded, "You don't need coin to be rich in life, you just need to team up with someone like Tom Hoving."
In the full-house were many members of the Hoving family and his museum and New York City parks department staffs as well as Robert F. Kennedy. Jr., the Met's president, Emily Rafferty, new director Thomas Campbell, Jules Feiffer, former Whitney director Tom Armstrong, New Museum director Lisa Phillips, and several Met trustees. One of them was asked if he'd read any recent books on the Metropolitan by another guest. "We're not allowed to," the trustee replied. He would have been during the late, great Hoving era, which today, at least, seemed not very long ago at all.
UPDATE: A Gripebox reader with deep ties to the museum says, with some shock, that few if any current museum trustees deigned to attend the Hoving memorial, but adds that former GE chairman Jack Welch was also there.