FOR IMMEDIATE RELEASE
Contact: Rachel Rokicki at Random House (212) 782-8466 or rrokicki (at) randomhouse (dot) com
740 PARK
The Story of the World's Richest Apartment Building
By Michael Gross
"740 Park is a historical building that is worthy of the comprehensive and fascinating coverage that Michael Gross has devoted to it. This book is as entertaining as it is informative — it's a terrific story." — Donald Trump
In the tradition of Tom Wolfe's Bonfire of the Vanities, Stephen Birmingham's Our Crowd, Dominick Dunne's People Like Us and Jennet Conant's Tuxedo Park, 740 PARK: The Story of the World's Richest Apartment Building (Broadway Books; October 18, 2005; $26.95; 0-385-51209-0; 531 pages) is a riveting look inside the decadent sprawling apartments, illustrious personalities lives and high society secrets of New York's most exclusive residential co-opbuilding. New York Times bestselling author Michael Gross gives us the epic story of the last of the great apartment buildings houses to rise on Manhattan's Gold Coast. APart exposé, part social history, it offers a history penetrating look at not only its bold-faced residents (Bouviers, Rockefellers, Chryslers, Spyros Niarchos, Steven J. Ross, Ronald O. Perelman, and Henry Kravis among them) ofbut also its builders and, its staff, its glitzy residents (the Bouviers, the Rockefellers, the Chryslers, Steven J. Ross, Ronald O. Perelman, etc.) — as well as a rollicking ride through n entertaining examination of the history of American wealth.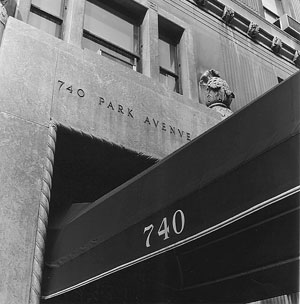 For 75 years, 740 PARK has been Manhattan's richest apartment building, and one of the most lusted-after addresses in the world. One apartment had 37 rooms, 14 bathrooms, 43 closets, 11 working fireplaces, a private elevator and his-and-hers saunas, another at one time had a live-in service staff of 16. To this day, it is steeped in the purest luxury, the kind most of us could only imagine, until now.
The last great building to go up along New York's Gold Coast, construction on 740 Park finished in 1930. Since then, 740 has been home to an ever-evolving cadre to some of our wealthiest and most powerful families, some of America's (and the world's) oldest money — the kind attached to names like Vanderbilt, Rockefeller, Bouvier, Chrysler, and Marshall Field — and some whose names evoke the excesses of today's monied elite: Kravis, Koch, Bronfman, Perelman, Steinberg, and Schwarzman. All along, the building has housed titans of industry, political power brokers, international royalty, fabulous scam-artists and even the lowest scoundrels.
740 PARK begins with the tumultuous story of the building's construction. Conceived in the bubbling financial and social cauldron of 1920's Manhattan, 740 Park Avenue rose to its dizzying heights as the stock market plunged in 1929 — the building was in dire financial straits before the first apartments were sold. The builders include the architect Rosario Candela, the scheming social-climbing developerbusinessman James T. Lee (Jacqueline Kennedy Onassis' grandfather), and a raft of financiers, many of whom were little more than white-collar crooks and grand-scale hustlers. Once finished, 740 became a magnet for the richest, oldest families in the country: the Brewsters, descendents of the leader of the Plymouth Colony; the socially-registered Bordens, Hoppins, Scovilles, Thornes and Schermerhorns; and top executives of the Chase Bank, American Express, and U.S. Rubber. Outside the walls of 740 Park these were the people shaping (and raping) Depression America. Within those walls, they were indulging in all of the Seven Deadly Sins.
As the social climate evolved throughout the last century, so did 740 Park Avenue: after World War II, the building's rulers eased their more restrictive policies and began allowing Jews (though not to this day African-Americans) to reside within their hallowed walls. Nowadays, it is bursting with new money, people whose fortunes, though freshly-made, are large enough to buy their way in. At its core 740 PARK is a social history of the American rich, and how the locus of power and influence has shifted haltingly from old bloodlines to new money. But it's also much more than that: filled with meaty, startling, often tragic stories of the people who live behind 740's walls, the book gives us an unprecedented access to worlds of wealth, privilege and influence. This is, truly, how the other half — or at least the other one hundredth of one percent — lives. Some of the startling facts include the sale of John D. Rockefeller Jr.'s apartment for a reported nearly $30 million and the story of how the Chrysler Building came to be sold by the Chrysler automaker's family children because a Chrysler was foiled in her attempt to rent a co-op at 740 Park.
740 PARK is a "whose who" of heirs, owners and executives of such billboard-sized brands as Standard Oil, Gulf Oil, Seagram, Campbell Soup, Chrysler, Saks Fifth Avenue, Friendly's Ice Cream, Avon Products, Anaconda Copper, the New York Central, Bonita Banana, Pullman, Milliken, Look Magazine and currently, Time-Warner, Estee Lauder, TV Guide, Blackstone Group, United Technologies, and Loew's. But most of all it is a rich social history of, and a glimpse into a monied world — past and present, that most of us can only dream about.
About the Author
Provocative cultural journalist and New York Times best-selling author Michael Gross is currently a Contributing Editor at Travel & Leisure and a Contributing Writer at Radar. He has previously held positions at The New York Times, New York Magazine, Radar, George, and Esquire. His writing has has also appeared in Vanity Fair, Interview, Details, Elle, Architectural Digest, American Photo, Town & Country, Cosmopolitan, and he has also written for the Washington Post, the International Herald Tribune, the Village Voice, the San Francisco Chronicle, and the Chicago Tribune. He has profiled subjects from John F. Kennedy, Jr. to Greta Garbo, Richard Gere and Ivana Trump, and he has written on subjects such as divorce, plastic surgery, Greenwich Village, and sex in the 90's. He is the author of The New York Times best-selling Model: The Ugly Business of Beautiful Women (1995), which was published in 8 countries; My Generation (2000), a biography of the Baby Boom generation, and Genuine Authentic: The Real Life of Ralph Lauren (2003). He lives in New York City.
740 PARK
The Story of the World's Richest Apartment Building
By Michael Gross
Published by Broadway Books
The Doubleday Broadway Publishing Group
October 18, 2005/Hardcover
$26.95; 531 pages; ISBN: 0-385-51209-0
www.mgross.com
www.broadwaybooks.com
**PLEASE SEND A TEARSHEET OF ANY REVIEW OR MENTION**
Advance Praise for 740 PARK
"Finally! A look inside the golden tabernacle of high society. This book gives you the back story — and more — about America's ruling class. And you always thought Fifth Avenue was the prestigious address. Dream on!" — Kitty Kelley
"Michael Gross has done a stunning job of reporting. The social history of modern Manhattan as seen through a single residential building, the men who conceived and built it, the wealthy families who lived out storied tours in its rich and lavish apartments, the famed and wealthy 740 Park snobbishly turned away." — James Brady, author of The Scariest Place in the World and Further Lane
"In 740 Park: The World's Richest Apartment Building, Michael Gross penetrates the bewitching and private worlds of the privileged and very rich denizens of 740 Park Avenue on New York's Upper East Side. Gross, a born story teller, delights in his tales of upstairs and downstairs over the decades in the grand building. This is social history at its best." — Dominick Dunne
"740 Park is a concrete capsule of American capitalism as seen through the fates, fortunes, and foibles of its inhabitants. This biography of New York's most magisterial building is an immensely entertaining, dishy, and ultimately serious book." — Jane Stanton Hitchcock
"The Lolita of shelter porn… 740 Park delves into the rarified world of one of the city's most exclusive co-ops, where billionaires like Ronald Lauder, Steve Schwarzman and David Koch rest their heads." — Michael Calderone, New York Observer
"Michael Gross has done a stunning job of reporting. The social history of modern Manhattan as seen through a single residential building, the men who conceived and built it, the wealthy families who lived out storied tours in its rich and lavish apartments, the famed and wealthy 740 Park snobbishly turned away." — James Brady, author of The Scariest Place in the World and Further Lane
Downloadable Assets