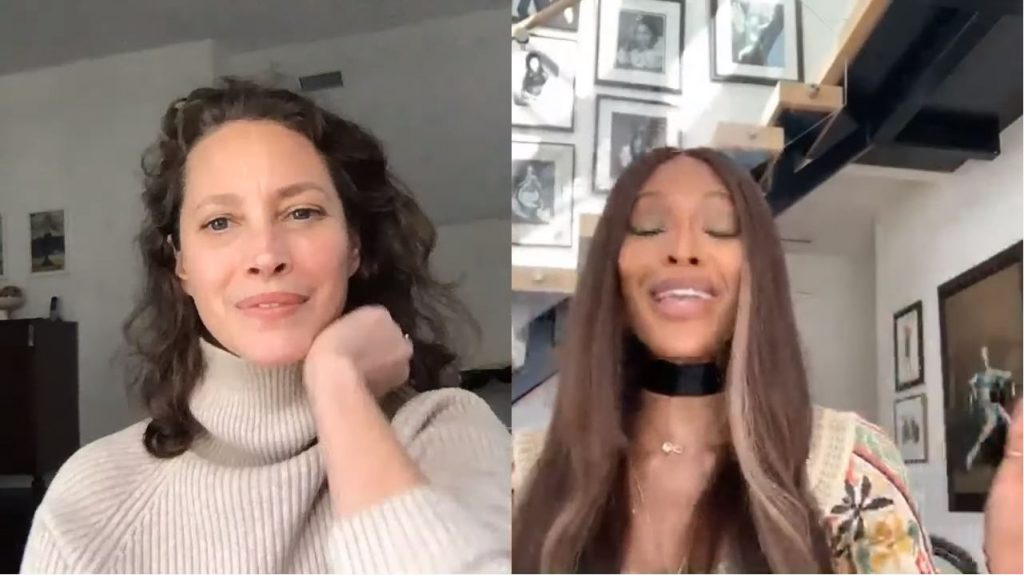 My 1995 book Model came up on today's episode of No Filter With Naomi, model Naomi Campbell's streaming YouTube "chat" show, an hour-long talk with one of her fellow members of the supermodel Trinity, Christy Turlington, both of whom are characters in the book.
Some back story. In early 1992, I was asked to write a feature profile for New York magazine on one of the supes. Not long before, late one night at Azzedine Alaia's atelier, Naomi had wrapped a leg around me and asked, "Why don't you write a story about me?" So I started with her but after several weeks of futile attempts to reach her, learned she'd chosen to cooperate with Time Magazine, instead, as they'd promised her a cover. Alas, her Time cover only ran on the magazine's foreign edition.
Meantime, I contacted Turlington who agreed to cooperate, and over a three day shoot with photographer Steven Klein for some Anne Klein ads at Industria studio, I learned that the infamous threesome had broken up when Linda Evangelista, the third side of the triangle, who was shooting with the Trinity's Svengali Steven Meisel in the studio next door, burst in, crying "Turlie, I ain't seen you for so looong." One section of the article that resulted told the story of the Trinity's ascent and splintering from Christy's point of view. It included her account of a dream she'd had in which she clapped her hand over Evangelista's mouth before she uttered her famous line about how neither she nor Christy would get out of bed for less than $25,000.
I was in Paris covering the fashion shows the week the story came out and at my first show, model Veronica Webb wagged a finger at me from the catwalk and motioned me backstage, where she told me I was in deep shit as I'd caused a scandal: None of the main characters were speaking to each other–and it was all my fault. Turlington was gracious about it. Not so, some others. Later that week, I ran into Evangelista who also wagged a finger at me and said "You're evil, you're evil and you're gonna get it." Later still, at a party for Vogue, her then-husband, Gerald Marie, who ran her Paris agency, threatened that if I ever wrote about her again, I'd never take another step in Paris! Which caused an amused Anna Wintour to observe, "I hear you had a moment."
Three years later, Model was published to considerable attention from, among others, some of the same models.
"I don't speak to Michael Gross because I don't believe in him," Evangelista was quoted saying.
"Who's Michael Gross? Who is he?" Naomi demanded of a reporter who asked her about it. I guess she found out.
You'll find my latest model moment–and learn what Christy and Naomi think about me now–at 36:00 minutes into the show. One correction: Contrary to Turlington's recollection, I didn't invent the term supermodel, though I did discover that it first appeared in print in the 1940s. You can read about that, the Trinity, and lots more in Model. Click this link to buy a copy.